What People are Saying...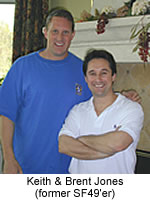 "To Keith and Elaine at A Cut Above"
Keith and Elaine are "A CUT ABOVE" when it comes to wallpapering. They are both wonderful people and know their business. We have been doing an extensive remodeling project at our home and they have been an intricate part to helping make our house a home. They are experts and in every step of transforming a room, their expertise shows. We asked for their advice and took their suggestions and are extremely easy to work with. It has been our pleasure being on the same same team with Keith and Elaine. -Brent and Dana Jones
(Former Tight End of the San Francisco 49'ers)
"Dear Keith and Elaine, I wanted to thank you for the outstanding job you did in wallpapering my diningroom. It looks great! You were very professional and meticulous in every way. You arrived on time and completed the job in the time frame promised. You cleaned up afterwards and left everything in good order. I definitely would recommend you and Elaine to anyone in need of having wallpaper hung."
Sincerely,
- Micki Lankes (Livermore homeowner)
"We were so pleased with the fabulous work Keith and Elaine did with our new home. Their professionalism, attention to detail and the quality of their work was incredible. It's helped make our home feel great, and we'll definately call upon them again for help."
- Lydia Barrett, Vice President, Marketing Operations, PeopleSoft,
- Pleasanton Homeowner
"A Cut Above wallcovering optimizes excellent quality and customer service. Their workmanship and attention to detail is impeccable. I was also impressed by their punctuality and their ability to work under a variety of working conditions. Keith and Elaine were a pleasure to work with and I would definitely recommend them to my friends. I thank them for turning our 30 year old home into a showplace!!
- Stacy Bennett, Homeowner Pleasanton, Ca.
"...considering that our construction schedules are sometimes very demanding, A Cut Above Wallcovering consistently provides TMW & Associates, Inc. with punctual service and high quality installations. We are very pleased at the level of efficiency displayed throughout their organization. They have regularly met or exceeded our expectations."
- Michael D. Miller, Vice President of Construction TMW & Associates, Inc. Stockton, Ca.
"I've worked with A Cut Above for eight years now, and we've encountered and overcome every kind of project and problem together, leaving satisfied clients wherever we go. Thanks Keith and Lainey, I'm looking forward to many more years working hand in hand with you."
- Paula Albinson, Interior Designer (Environments That Work, S.F.)
Thank you Keith and Elaine for providing a service that is truly "A Cut Above!" From the beginning we were impressed with your professionalism, courteousness, promptness, attention to detail, and superior craftsmanship. Our kitchen wallpaper is beautiful!
- Dr. and Mrs. S. Edwards (Pleasanton homeowners)
"Flawless, what else can I say !"
- Carlos Candelaria- Interior Designer- Flegels Fine Furnishings, Menlo Park, Ca
"A very creative couple that you can count on to do a great job.....Real pro's "
- Mark and Mardi Keckeis (Pleasanton homeowners)
"Dear Keith and Elaine, Suzanne and I wanted to again express our thanks for a job well done, this time in our entry hall and stairway.As was the case when you previously papered our three bathrooms and utility room ,we find that you are not only expert at what you do, but timely in terms of making and keeping appointments and competitive price-wise. We're already looking forward to yet another encounter when you paper our living and dining room during the New Year.Feel free to use us as references--we couldn't be more positive. We're sorry that we're running out of surfaces for you to cover !
- Tom and Suzanne Tyson (Walnut Creek homeowners)
"Keith and Elaine get in - do the job quickly and efficiently - and get out with a minimum of disruption, in my business, that's what counts. Thanks you guys!"
- Tony Klisura, Director of Plant Operations San Ramon Regional Medical Center
"It is a pleasure to work with such reliable and professional people - Thank you very much."
- L. Michael Lyon, Interior Designer Pleasanton, Ca.
"I am extremely pleased with the wallpaper that was installed in my home by A Cut Above. I am even more impressed with their level of professionalism. They arrived on time, provided input into the appropriate type of wallpaper to use in each room, completed all the work sooner than expected, and left everything neat and clean. Their high standards certainly live up to the name of their company. A Cut Above will be my first choice for future work in my home."
- Kathleen Huls, Homeowner, Danville, Ca.
"A Cut Above does quality work, they are dependable and are always responsive, calling me back quickly and doing the work efficiently."
- David Hansen, Director of Engineering Walnut Creek Embassy Suites Hotel
"The superb range of services at A Cut Above can revive a tired interior, from inspiring ideas, accurate measurements and room plans that prevent expensive mistakes."
- Glynnis Dobson, Homeowner Pleasanton, Ca.
"Great attention to detail, incredible preparation before paper goes on so the finished product is excellent. Wonderful people who are totally honest - I can leave my home with them here and have great assurance all will be safe. P.S. They are nice to my dog."
- Shanna Parmley, Homeowner Alamo, Ca.
"Keith and Elaine are a pleasure to work with, I would confidently recommend them to anyone."
- Nancy McDonald, Realtor Heritage Homes Pleasanton, Ca.
"I've always been happy with A Cut Above and would recommend them anytime."
- Mike Want, Want Construction Lodi, Ca.
"Keith and Elaine do beautiful work, are very neat, very quick and very dependable."
- Bernadette Dantziz, Homeowner Pleasanton, Ca.
"A Cut Above are a painter's dream when it comes to stripping and prepping for painting. We've done small jobs and large projects together, including Hotels, coordinating and working side by side. I'd recommend them without hesitation."
- Poal Construction, inc., General Contractor Pleasanton, Ca.
"To Keith and Elaine, Many Thanks for the excellent job in removing wallpaper in our Master Suite. You and Elaine were professional, worked quickly and removed the paper with no wall damage. The walls are ready for texturing with no additional work, another saving. You were easy to have in our home and left it clean and ready for the next step in our project. You are a great team and we would recommend you anytime."
- Dave and Genny Blomquist, Alamo, Ca.